NPD April: US Video Game Spending Declines For the First Time in Pandemic Era
It's that time again as another report from The NPD Group reveals US video game industry spending habits for April, and the big takeaway is that for the first time in 14 months the overall figure has actually declined — though overall spending over the first four months of the year is still ahead of 2020.
As usual, The NPD Group's Mat Piscatella took to Twitter to deliver the results. First, revealing the overall spending total of $4.6 billion, which is a 2% decline when compared to a year ago. As alluded to above, year-to-date consumer spending reached $19.6 billion, which is a 21% increase from 2020.
A second graph highlights that monthly spending is now comparable to figures from last year, as opposed to trending upward as they have been up until now.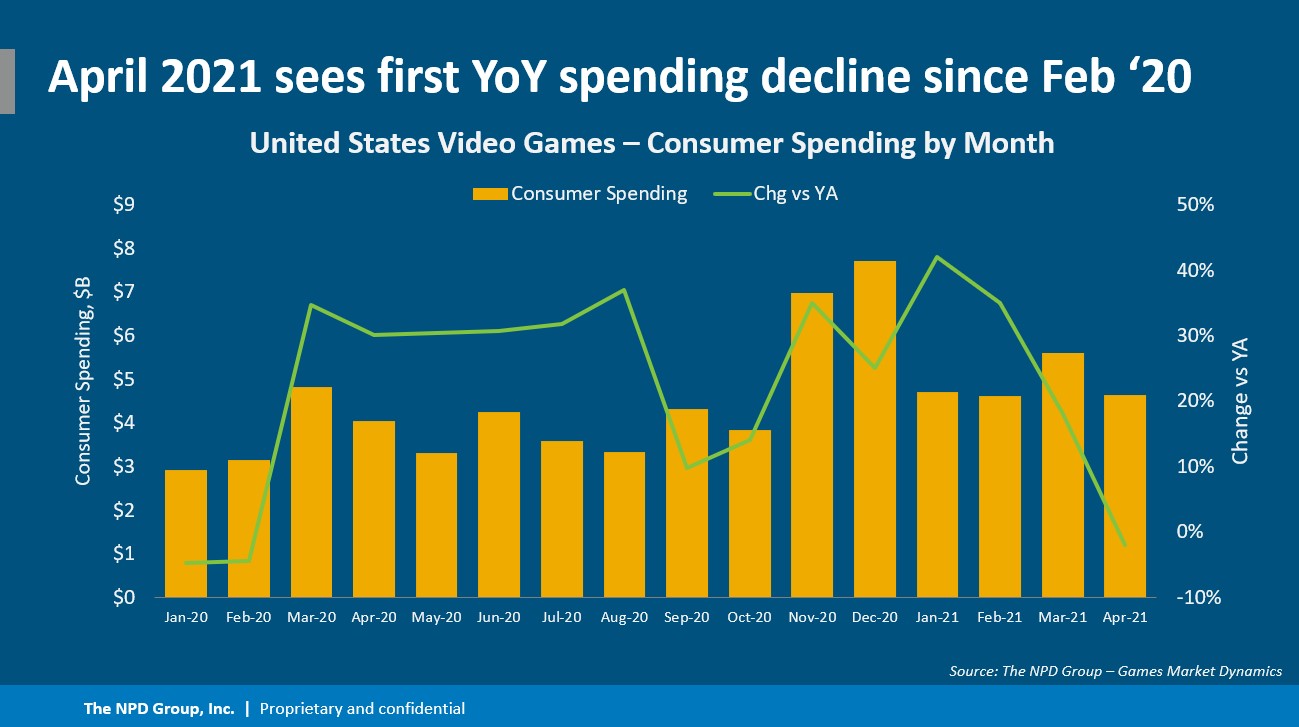 Hardware Sales
Piscatella then breaks down the performance of video game hardware, which revealed that Nintendo Switch's strong commercial success continued once again as it led the pack in April:
"April video game hardware dollar sales fell 30% when compared to April 2020, to $296 million. April 2021 hardware dollar sales were 84% higher than the total achieved in April 2019 ($160 million)."
"Year-to-date hardware dollar sales gained 42% when compared to the similar period in 2020, at $1.7 billion."
"Nintendo Switch was the best-selling hardware platform in both units and dollars during the month of April, as well as 2021 year to date."
Software Sales
Moving on, here's a look at the performance of video game software, where Sony's now-multi-platform baseball series MLB The Show ended the month on top with its latest entry:
"MLB The Show 21 debuted as both the best-selling game of April 2021 as well as the 3rd best-selling game of 2021 year to date. Launch month dollar sales of MLB The Show 21 set a new franchise high."
"MLB The Show 21 was the best-selling game of the month on PlayStation platforms, and ranked 2nd on Xbox (note that digital sales on Xbox platforms are not included in the rankings)."
"New Pokémon Snap was the 3rd best-selling game of April 2021 and was the month's best-selling game on Nintendo platforms. Launch month physical sales of New Pokémon Snap more than doubled those of Pokémon Snap, which debuted in the July 1999 tracking month."
"Mortal Kombat 11 placed among the top 10 best-sellers of the month for the first time since ranking 9th in July 2020. Mortal Kombat 11 is currently the 13th best-selling game of 2021 year to date."
"It Takes Two climbed to 9th on the April 2021 best-sellers chart after placing 22nd in its March debut month. It Takes Two was the 3rd best-selling game of April on Xbox platforms while ranking 8th on PlayStation."
Accessories
Finally, a look at spending on accessories and peripherals:
"April 2021 spending on video game accessories declined 23% versus a year ago, to $168 million. Year-to-date accessory sales reached $885 million, an increase of 22% when compared to the same period in 2020."
"The PS5 DualSense Wireless Controller White was the leading accessory in dollar sales for both the month of April as well as 2021 year to date. Sony's PULSE 3D Wireless headset ranked 2nd."
The below slideshow features data on the best-selling software in March and year-to-date.
To compare the results to last month it's here.