News
The Splatoon 2 Splatfest in North America Has Ended and the Results May Surprise You
Do Americans like eating fries with ketchup or mayo?
Last night marked the end of yet another brutal Splatfest in Splatoon 2. This time around, mayonnaise and ketchup were the two choices that people could fight for. If you missed the news, mayo won the Splatfest in Japan 2-1, winning the majority vote and solo battles but lost to ketchup in the team battles. Mayo is used in a lot of Japanese dishes and even tastes different than the mayo here in North America so it's sort of expected for mayo to come out on top.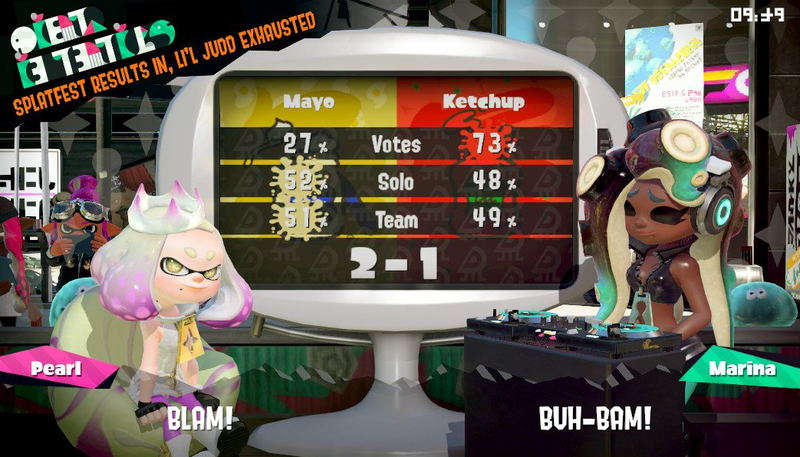 In North America, New Zealand, and Australia, surprisingly, ketchup has lost the Splatfest to the off-white condiment that is mayo. Even though ketchup won the majority vote with 73%, mayo players destroyed ketchup players in team battles and solo battles, giving them the win.
According to Kotaku, Splatoon 2 ketchup fiends are angry about this turnout and are saying that the system was broken and/or rigged. People on Twitter are sending angry tweets to Nintendo of America, telling them that the servers are crap and the whole Splatfest was rigged.
Whether you found it to be fair or not, controversial or not, the results are what they are: Mayo has reigned supreme.
Splatoon 2 is now out for the Nintendo Switch; If you're interested in picking up the game and participating in the next Splatfest event then make sure to read our review and check out our ever-growing wiki guide for all of your tips and tricks.
CHECK OUT MORE