Monster Hunter World: Iceborne's 5th Free (and Final) Title Update Brings Back Fatalis
During a Monster Hunter World: Iceborne livestream from Capcom, the team announced the fifth free (and final) title update which will add Fatalis to the game, a very powerful elder dragon that initially appeared in the first Monster Hunter title.
The update will add a special assignment that will bring players face to face with the Black Dragon but you can only start the quest once you finish up Iceborne's campaign, which can take some time –you also have to wrap up the Alatreon investigation.
And of course, with the new monster to fight comes a brand-new armor set for players to craft, which you can see in the gallery down below. There's also a really adorable Palico outfit that turns your feline partner into a miniaturized version of Fatalis.
There's also a new skill being added to the game with this update called Clutch Claw Boost, allowing any type of weapon users to take full advantage of the claw's features. So if you have some space for an extra skill, this could prove to be advantageous for certain monster fights.
You can also check out the Iceborne roadmap for the rest of 2020. This new title update will be out on Oct 1, there's a 1 year anniversary event quest starting on Sep 5, and there's also some other fun stuff like the Astera Fest/Seliana Fest Rush.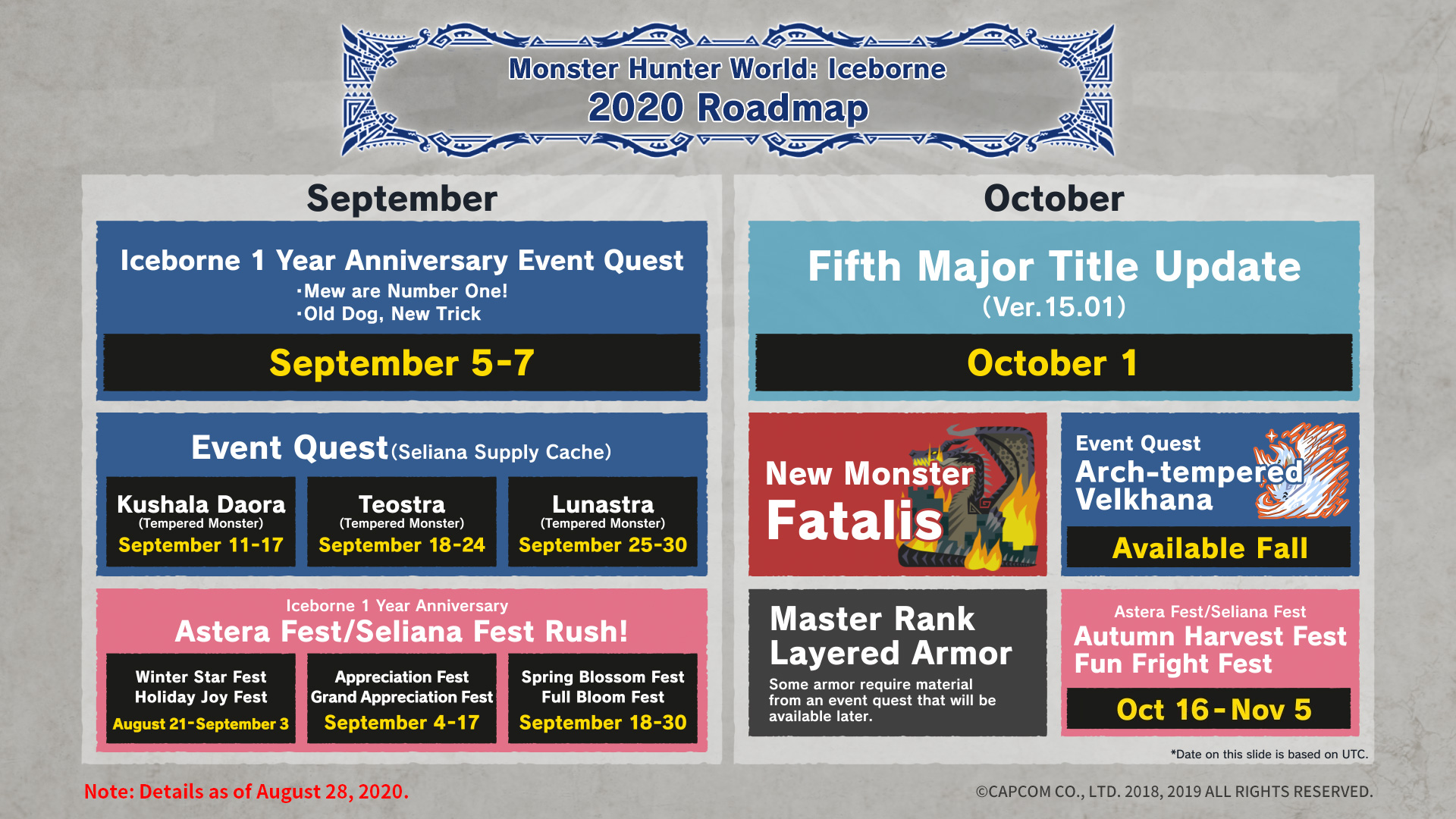 You can watch the Fatalis reveal trailer down below and the developer diary video that goes into detail on all of the new content that's coming.
You can also check out some more images of the new update down below:
And for even more info on the upcoming update, you can check out the official patch notes here.
Monster Hunter World: Iceborne is now out for PC, PS4, and Xbox One. You can read our glowing review here and make sure to have a look at our Guide Wiki for helpful tips and tricks.
Related Posts