10 Most Useless Weapons Ever Found In Any Video Game
I feel dirty even holding some of these disgraces.
Stun Gun (Silent Hill 3 + Silent Hill 4: The Room)
We start this list with a weapon that is useless in the most boring way possible – it's just impractical. There is no situation where the Stun Gun is more useful than any one of your other items, even your melee weapon. The Stun Gun takes up ammo of batteries, using one per use of the weapon. So it must be reloaded after using it. Batteries are also very difficult to find in Silent Hill, just like any other type of ammunition. Not only that, the Stun Gun cannot actually kill any of the monsters you run across in your jaunt across Silent Hill; it only stuns them for a brief moment. So it takes ammo that is difficult to find, and is still non-lethal compared to your basic melee weapon. Pass.
That said, though, if you use it on the giant head of Eileen in Silent Hill 4, it makes her eyes flash for a second. So there's that.
Stone Gun (Final Fantasy Tactics)
The Stone Gun is a rather misleading weapon in Final Fantasy Tactics. From its description, you would think that it was a gun intended to petrify your opponents. "A firearm with the power to petrify", it reads. However, this description is just vague enough so that it doesn't tell you the real cost of equipping this item; while it is powerful, it also petrifies the person that equips it on the first turn of battle. So, you have to spend a turn or two getting the character unpetrified to be able to use it in combat. Definitely not worth the hassle.
Joke Weapons (Soul Calibur series)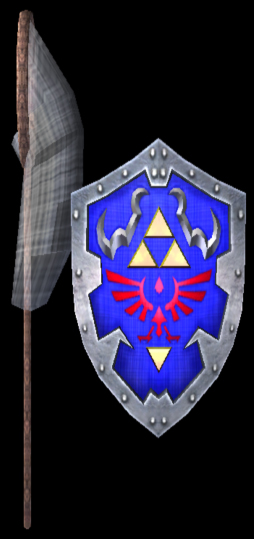 Joke Weapons appear across all of the Soul Calibur games and are exactly what you'd think they are – intentionally weak weapons added as a gag. Joke Weapons started in Soul Calibur 2 and have continued to appear in every game since. Some classic Joke Weapons include Link's bug-catching net, pictured above; Nightmare's galley oar; Yoshimitsu's cane; Talim's arm weights; and Mitsurugi's wooden sword. These weapons are all incredibly weak and ineffective, but they do have a massive upside: if you manage to beat your friends using them, you get bragging rights for the next month at least.
Razor Sword (The Legend of Zelda: Majora's Mask)
Ah, the Razor Sword. Perhaps one of the greatest disappointments in Zelda history. The Razor Sword's design is surprisingly excellent and makes it only more disappointing when you realize how useless it is. You can get your Kokiri Sword upgraded at the Snowhead Blacksmith for 100 Rupees, leaving it with them for an entire day to be reforged. After that, you get the badass Razor Sword! …But only for a little while.
After 100 blows, the Razor Sword's blade dulls and turns back into the Kokiri Sword. Not only this but if you go rewind time back to the Dawn of the First Day, it reverts back to the Kokiri Sword anyway. Such potential, lost in a high cost and a limited use. At least you're guaranteed to see it once by upgrading it to its much superior older brother, the Gilded Sword.
Toy Mega Buster (Dead Rising)
Dead Rising is home to a great number of useless weapons, a consequence of having such a large selection of weapons available. However, the Toy Mega Buster gets a special mention because of its more powerful older brother, the Real Mega Buster. The Real Mega Buster is, as the name implies, a real Mega Buster out of Megaman. It fires laser blasts that mow down waves of zombies without even thinking, and it has dozens of shots in it.
The Toy Mega Buster, however, fires ping pong balls and cannot even take down one zombie with a full clip. At least the Toy Mega Buster is easier to get than the Real Mega Buster; you only need to run to the movie theater to grab it, as opposed to killing 53,594 zombies in three days.
Handmaiden's Ladle (Dark Souls 2)
This bizarre weapon can only be found in the opening area of Dark Souls 2. To acquire it, you must defeat the two large Ogres found near a coffin at the beach; these enemies are very resilient, and without upgraded weapons or a certain modicum of skill the player would not be able to do this on their first run. After killing the Ogres, you must talk to the younger woman in the hut with the older Fire Keepers, and she will give you this ladle for use as a weapon.
However, the ladle has a low damage output, so much so that even the game acknowledges that it's useless in battle. The item's description notes that "he who chooses this as a weapon either faces extenuating circumstances or has an odd sense of humor. If you care for your life, leave this one in the kitchen." That hasn't stopped players from running through the game with it, though. Dark Souls players are a dedicated bunch – leave it to them to create builds for useless joke weapons.
Magikarp (Pokemon Series)
Magikarp used Splash! …But nothing happened!
If you're looking to add the juggernaut Gyarados to your team, be prepared to see this message a lot. Magikarp is acknowledged as one of the most useless Pokemon in existence, even by its own Pokedex entry. You find them everywhere, in almost every body of water you come across. All of them only know Splash, a move whose explicit purpose is to do completely nothing. If you're dedicated enough, you might catch one below level 10 so that it might learn Tackle to make the trip easier. At the very least hopefully you find one above level 15, because otherwise you are in for a LONG grinding process to get to level 20. Gyarados is worth all of the effort in the end, but that still makes Magikarp just the frustrating middleman to the beautiful endgame of Gyarados.
Light's Justice (Hearthstone: Heroes of Warcraft)
Light's Justice is a pretty impressive looking hammer in World of Warcraft, but in Hearthstone it is a poor excuse for direct damage. It only does one damage per attack, and it can be used four times. There is almost no situation where using Light's Justice by itself is worth it. If you're attacking an enemy minion, it does its damage to you as many times as you attack it, and pinging your opponent for one damage over and over isn't worth the card in your deck.
It doesn't help that the Paladin gets a much superior weapon – the Truesilver Champion – as an equally available option. Truesilver Champion is part of the basic set that you start with as a new player, which gives everyone really no reason to put Light's Justice in their deck over a Truesilver Champion. At least you'll always be good for Transmog sets, Light's Justice.
Your First Gun (Borderlands 2)
Even Vault Hunters have to start somewhere. Gearbox Software really starts you off low, though, with your first weapon in Borderlands 2. This piece of junk is barely a peashooter, and even as the first gun you pick up you realize how laughably ineffective it is at killing the nearby fauna. It's any wonder that Claptrap wasn't torn apart by Bullymongs sooner if all he had was this thing to keep him safe. Of course, the powerlessness of this gun is intentional; it is to create a hunger in the player for more powerful weaponry, to make them desire to find better weaponry so that they can toss this thing in the trash as soon as possible.
But once you find a better gun to replace this, who's to say you can't find anything better than that…? And even after that…? Soon you realize you've been playing for about 20 hours and Gearbox is laughing at you from the peak of their mountain of cash and guns.
PS20 (Deus Ex)
Who the hell thought this was a good idea? The PS20 is a compact plasma pistol that you can only find in hidden caches around levels in the original Deus Ex. Due to its hiding spots, one might be inclined to think that it is an amazing secret pistol for those who find it, but instead all you get is a waste of inventory space.
The PS20 only holds one shot before being discarded, and you can only hold one in your inventory at any given time. Its single shot isn't enough to kill unless you get a headshot with it, a trait shared only by every other firearm in the game. It also fires a very slow projectile, making it easily avoidable by the enemy. There is absolutely no positive purpose to keeping one of these things. Toss it in the garbage with the rest of them.