10 Best Video Game Characters of 2019
The past year was one filled with intriguing and fleshed out characters in games, but some stood out as a cut above the rest. To that end, this is our list of the top 10 best video game characters of 2019.
**Warning: There are minor spoilers for some of the games that have come out in 2019 down below, so proceed with caution if you don't want to get some story elements spoiled for you.
The Goose (Untitled Goose Game)
The Goose from Untitled Goose Game turned into a bit of an iconic figure upon the game's release, and for good reason.
Emerging from its pond with the sole intent of annoying townspeople, it's the kind of villain or antihero people can instantly identify with.
It wants to annoy a farmer who has locked it out of the town, so it does. It wants to terrorize a child who is afraid of geese, and so it does. It wants to make its way to the center of town, and darn it all, it's going to do it no matter the cost to the townspeople's sanity.
Even as it nears the end of its misadventures, this straight-forward desire doesn't change. It has no ulterior motive or secret plan, and continues to act like… well, a meddlesome goose.
Its simplistic drive to wreak havoc, and to do whatever it wants in the limited scope of time it has to do so, makes it endearing in a way other video game characters can't manage even with the benefit of dialogue and exceptionally lengthier stories. And, as a result, it's likely to endure far longer in gamers' minds than those characters.
Amicia de Rune (A Plague Tale: Innocence)
From the start of A Plague Tale: Innocence, Amicia de Rune's character arc is pretty clear-cut.
The older sibling to a young boy named Hugo, she is forced to grow up fast after both her parents are supposedly killed by a force of Inquisitors. With no one else to help them, she must do what needs to be done in order to ensure their survival and bring Hugo up as best she can.
It's a tale that many a game has tackled before, and one which has resulted in characters that run the gamut from dime-a-dozen to unforgettable.
Fortunately, Amicia falls into the latter of the two camps. The quieter moments where she has to explain war to Hugo, or where she tries to help him escape from the dire reality of their plight by picking flowers and exploring their surroundings, become more natural and heartfelt as the story progresses.
She grows and changes in turn with their experiences, and by journey's end has matured in a way that is believable, earned and, most importantly, enthralling.
Takayuki Yagami (Judgment)
Team Yakuza has always had a knack for writing tragic characters in search of redemption, and Takayuki Yagami is no exception.
The protagonist of the new series Judgment, Yagami is a former lawyer turned private detective, taking the law into his own hands to see that justice is done. Doing so allows him to atone for his past mistakes, but over the course of the game, he discovers that he may well have been dealt a bad hand by someone other than fate.
Granted, this may not sound all that unique on paper; on the contrary, it makes him sound like a run-of-the-mill dramatic action game protagonist.
Much like Kazuma Kiryu or Goro Majima though, Yagami is written with the kind of care and effort that elevates him above the tropes he occupies. His drive to see justice done, and his care for the friends who have stuck by him in his darkest hours, make him endearing in a way few action game characters could ever hope to be.
It makes him a character to watch out for in the years to come, and one which stands to become just as legendary as his Yakuza predecessors.
Parvati Holcomb (The Outer Worlds)
Among the many strange individuals players can meet in The Outer Worlds, Parvati Holcomb stands out thanks to how earnest she is in everything she does.
The daughter of an Edgewater laborer who dreamed of traveling the stars, she views everything with wonder and amazement.
Whereas the rest of the player's crew treats maniacal corporate behaviors, hulking spacecrafts and otherworldly wildlife with indifference, she sees it all with fresh eyes and an excitement – or terror – befitting of someone witnessing something outside of their scope of knowledge.
However, this pales in comparison to how she maintains the core parts of her personality that make her endearing. Even as she witnesses enough to make anyone more jaded and cynical, she remains an honest and considerate person, acting as a moral compass for players and the rest of their crew in their adventures.
She keeps everyone on the level, and reminds players that even if the rest of the universe is fine with falling into selfish behaviors, they can still take the higher road for the good of all involved.
Dr. Casper Darling (Control)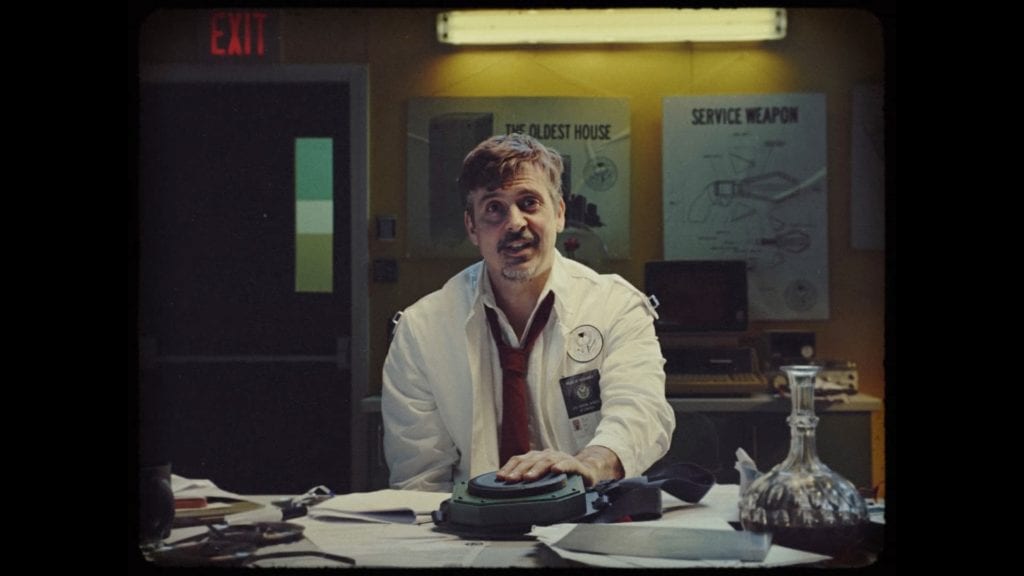 It's pretty astounding how much of an impact Dr. Casper Darling can have on players, especially considering they never meet him in the flesh.
The former head of research at the Federal Bureau of Control, Casper is nowhere to be found in the game proper. Instead, he has left behind a series of videos chronicling his discoveries regarding the paranormal, giving you hints about what happened to Jesse's brother, what led the Bureau into its current state and, most importantly, what happened to him.
Thanks to these tapes though, players start to piece together a solid portrait of who he is: A thoughtful, dedicated man forced to reckon with the cost of what his curiosity meant for the world around him, and who very well may have sacrificed his own life to stall the forces now bearing down on the Bureau.
It's more than a little tragic, and one can't help but feel sorry for his misfortune. And yet, in the last bit of footage players see of him, he seems happy and content with his fate. It's enough to think that maybe he's content with the hand he was dealt, and that maybe it was even what he wanted all along.
Cliff Unger (Death Stranding)
Death Stranding doesn't have the best story or characters out there, but Cliff Unger is a shining exception.
A former special forces captain with years of field experience, Cliff is the father of one of the original BBs. Following a tragic accident that nearly killed his wife and unborn child, he was forced to turn to Bridges for treatment via new and untested methods.
The choice saved his wife and child, but also left them at the mercy of the organization's endless tests, many of which pushed Cliff's humanity to its breaking point.
He eventually decided enough is enough and tried to rescue them, but he and his child were killed as a result. Shortly after, the Death Stranding occurred, leaving him to wander the Beaches of the world in search of his child he was never able to rescue.
He's the kind of melodramatic, tragically enthralling video game character Hideo Kojima fans have come to know and love. Learning more about Cliff as the game progresses is a treat, and by the game's end, it's hard for players not to wish they could spend a little more time unraveling his role in the nonsensical craziness that is the larger plot.
Claude Von Riegan (Fire Emblem: Three Houses)
Claude is, to put it simply, what happens when you cross a brilliant tactician with an exceptionally heartfelt – and likewise meme-able – video game character.
The heir to the family which leads the Leicester Alliance and the leader of the Golden Deer faction, Claude is equal parts easy-going and pragmatic.
For every carefree conversation he has with the player in the school's halls, there's a new poison concoction he has ready should an enemy emerge he has to deal with. For every joke he cracks at his and his friends' expenses, there's a heartfelt reveal of just how well he understands the prejudices of the world.
This is all only bolstered by the fact that he's generally on the outskirts of the game's primary conflict. While the other two factions are concerned only with achieving their goals, he prepares for and reacts to the destructive drives of those he once called friends for the good of not only his people, but every person involved in the bloody conflict.
It's the kind of nuance and depth that is a welcome departure from other characters' more cliched personalities and helps establish him as someone most any player would gladly join in battle after battle.
Isshin Ashina (Sekiro)
It isn't often a video game character can be so likable despite becoming the scourge of a player's life in one boss fight.
And yet, that's exactly what happens with Isshin Ashina, the aging ruler of Sekiro's decaying feudal province. A veteran warrior of great renown, he comes off as someone who lives for nothing more than the thrill of battle and spends his golden years longing for another clash of steel.
After a few interactions with him though, it's easy to see why so many joined his cause. Wise, wily and always willing to offer a word of advice, he cares for his people as if they were his own children. Even as some plot and scheme behind his back, he looks back at the good times he had with them and worries for their safety.
It all culminates in him literally coming back from the dead to defend his land from a wave of invaders, and standing against the player in a ruthless, rapidly-paced clash of swords and ideals.
It's all endearing, and makes him a video game character players will want to talk with as much as they want to put him into the ground; and, by the time they've finished him for good, they'll be overcome with a mix of satisfaction and regret at toppling the irreplaceable Sword Saint.
Clementine (The Walking Dead)
Video game characters rarely grow and change in front of players the way Clementine has in The Walking Dead.
Starting out as a frightened child saved by a stranger as the world fell apart, she grew into a hero all her own. She became strong enough to lead her own group of survivors, guided the growth of a young orphan, and fought tooth and nail against a world that wanted nothing more than to see her and her loved ones dead.
She took to heart all of the lessons and decisions she learned from the people she met along the way – as well as those imparted by players' decisions – and applied them as best she could in the final episodes of this year's final season, saving as many people as she could without losing everything.
It may not have been the perfect ending to the series – both in-game and in terms of the fate of the studio behind it – but one can't deny that it gave Clementine a proper send-off and lent some weight to everything players had been through with her.
As a result, Clementine has been cemented as a character gamers won't soon forget, and that they'll be hard-pressed to find anyone similar to in games to come.
Sean Diaz (Life is Strange 2)
Few characters and their arcs can stick with a player the way Sean Diaz' does.
When players first meet him, he's a normal teenager worried about dates, friends and being annoyed by his younger brother Daniel.
After his father is wrongfully shot by a police officer though, and Daniel uses supernatural powers to kill the officer in a fit of rage, that all changes. He's forced to take Daniel on the run, traveling across the country and running into a slew of situations where he has to teach and guide Daniel in place of their father.
He's forced to grow up before his time for the good of Daniel, and even if players are there to guide some of his decisions, he can still only react in the scope of what he himself had come to understand in his 16 years of life. He makes mistakes, acts selfishly and ends up hurting Daniel just as much as he hurts them before finally coming to a point where he knows what he's doing.
It's uplifting and gut-wrenching in equal measure to watch his arc unfold. And yet, it also leaves players feeling like they've truly shaped a character in a way few games have ever managed.