Top 15 Easiest Xbox One Achievements of 2019
Home » Features » Top 15 Easiest Xbox One Achievements of 2019
Life Is Strange 2
Life Is Strange 2's now out in its entirety and follows the story of the Diaz brothers, Sean and Daniel. On the run from the police, the two end up finding refuge and shelter with a group of young travelers as they try and make their way to Mexico. Of course, as you might expect, things don't all go entirely to plan, but we won't spoil that for you. The achievements in every episode of Life Is Strange 2 are the same, and that's what makes it so easy.
All you'll need to do is pick up all of the collectibles from every episode, complete a sketch, and finish the episode. Rinse and repeat for each episode and you'll have the full 1000 Gamerscore in no time.
As one of my personal favorite narrative-driven games to release in 2019, Life Is Strange 2 is most definitely worth checking up for achievement hunters and fans of the series alike.
The Walking Dead: The Final Season
Following the sad news that Telltale Games would be closing its doors midway through The Walking Dead: The Final Season's development, many thought we wouldn't see the end of Clem's story.
However, Skybound came to the rescue and bankrolled the remaining two episodes so that the fans and the developers were able to see Clem's adventure through to the end, and oh boy we're glad they did.
Other than episodes three and four being some of the strongest chunks of narrative-driven content within Telltale's The Walking Dead four seasons, they also bring 22 achievements totaling 500 easy Gamerscore. Simply complete all of the acts of each episode, fine and place all collectibles, and do some fairly easy interactions as you're playing.
These are things as simple as petting Rosie the dog in episode 3 and interacting with all points of interest when spying on the Raiders. As The Walking Dead episodes tend to be fairly simple in terms of gameplay, you shouldn't have an issue blasting through these and netting yourself an easy chunk of Gamerscore.
Plus, who doesn't want to see how Clementine's story ends once and for all?
Access Denied
Access Denied is a short but sweet puzzle game where you have to crack your way into 36 different little boxes protecting other people's personal information. You're a hacker, if you will, but it's all painted in nice colors and fun puzzles.
The best part is, it's got 13 achievements totaling 1000 Gamerscore, and the entire game's pretty darn straightforward and easy to finish in a couple of hours, too.
Out of the 13 achievements on offer here, six are for simply starting or completing levels, another one is for spending three minutes on one level, and another is for skipping a level. You get the idea here, this is a game for achievement hunters through-and-through.

The Occupation
White Paper Games made its grand return to our screens with the release of The Occupation in February, following its indie success, Ether One back in 2014. This time around, players assume the role of an investigative journalist in 1980's North West England.
Each problem you come across has a number of ways for you to approach them, and the narrative and premise is compelling enough to want you to see it through to the end, despite some niggling issues. There's also only 15 achievements for you to earn, totaling the full 1000 Gamerscore, meaning you shouldn't have too many issues getting the lot.
Some of these simply require you to complete a playthrough of the game, while others simply require you to be a good timely journalist and make all your meetings on time. There's even an achievement for starling Steve, and another for annoying him. Poor Steve.

Old Man's Journey
Rounding things off is Old Man's Journey, a story-driven puzzle game with some stunning, whimsical visuals. The image above doesn't really do it justice, you need to see the game playing out in motion to truly appreciate its beauty. Anyway, Old Man's Journey essentially recounts moments of an old man's life. It's short, sweet, and only has 12 achievements totaling 1000 Gamerscore.
The entire game only takes a couple of hours to beat, and if you want to get all of the achievements, you can get 'em all in a single playthrough.
Xbox Achievements has a pretty great achievement guide to talk you through the various miscellaneous things you'll need to do to get them all, and you can use the chapter select option to return to one of them should you miss one on your first playthrough.
It might not be some 30-hour blockbuster, but it's one of the easiest Xbox games for achievements to hit Microsoft's system so far this year without a doubt.
Sea of Solitude
Sea of Solitude is one of the most gorgeous games to release on Xbox One so far in 2019, and while its gameplay might leave a bit to be desired, it's still got some easy achievements for a sweet 1000 Gamerscore boost.
The game follows Kay, a young woman who wakes up in a mysterious world that mirrors her troubled life, bringing her face-to-face with her nightmares.
That's where you come in, as you'll need to avoid the darkness and bring the world back to the light. It's a standard 3D platformer, but one that gets tired quickly, particularly when orb collecting comes into the picture.
Despite this, with the help of a video walkthrough, Sea of Solitude's 22 achievements can be obtained in under three hours. You'll just need to make sure you're shooing every seagull you spot, and collecting all the bottles littered throughout the world.
Outside of these, a lot of the other achievements should come naturally, but that video walkthrough is invaluable all the same.
Neon Junctions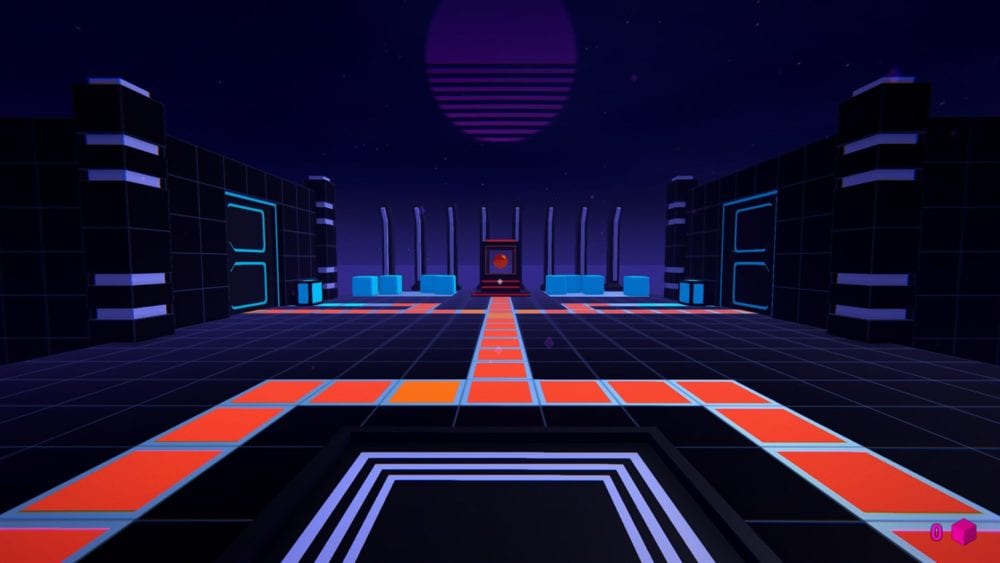 Neon Junctions is arguably the easiest Xbox One game for achievements to have released in 2019 so far. You're dropped into a wave that can only be described as an 80s synthwave dream, where you'll need to use various cubes to close circuits and restore power to a teleporter that'll take you off to the next level.
It's not a brilliant game, but its achievements list certainly is. There are only 12 achievements on offer here, but they're all worth at least 80 Gamerscore. They range from simply completing the first level, and dying (yes, really), to restoring electricity and collecting 99 cubes.
The entire list can be cleared in 30 minutes, as demonstrated by Maka91 on YouTube, whose video walkthrough we highly recommend so you don't have to spend longer than you need playing this.
Ascendance – First Horizon
Ascendance – First Horizon is another game that you're more likely to buy and play simply to get the achievements, rather than for enjoyment. It's an incredibly simple puzzle game that'll guide you through three worlds.
Each world has a series of nodes that, once interacted with, unlock the next in a chain, adding in more platforms to the world and enabling you to progress further.
Simply put, there's no story here, everything's all kinda the same across each of its three levels, and performance-wise, Ascendance won't be winning any awards.
Still, its 10 achievements — each weighing in at 100 Gamerscore — are ridiculously easy, and all of them can be obtained within an hour, so you can delete it off your hard drive and play something that's actually entertaining.
Just make sure you keep a video guide to hand, just in case you miss one of those damn Kubuse in a level.
Cybarian: The Time Traveling Warrior
While it might look like a throwback to the days of retro arcade action days, Cybarian: The Time Traveling Warrior is actually one of the easiest Xbox One games to get the full 1000 Gamerscore that's hit Microsoft's console in 2019 so far.
Releasing in June on the Xbox One, the game is all about mixing classic platforming with boss battles and wrapping it all up in an old-school visual style.
It's by no means the best game in the world, but the fact that you can clear all 21 achievements by the time you reach the third boss in the game means you won't have to play this any longer than you need to.
Just make sure you're killing every enemy type you see, collect 40 coins, buy a bunch of hearts, complete a combo, and hit a homeless guy, and you'll have unlocked the full 1000 Gamerscore by the time you've beaten the third boss.
Though, you might need to re-run the first level on hard, as one achievement tasks you with reaching the first boss on hard difficulty.
Super Weekend Mode
Super Weekend Mode is an old-school-looking game that simply sees you using paddles to stop falling hearts from touching the floor while hitting a giant enemy at the top of the screen. You need to avoid dust bunnies from landing on your paddles, and avoid skulls that'll occasionally drop down in place of a heart.
Yes, it's an incredibly basic premise, and yes, the achievements list is similarly basic.
Beat the first three stages, level up, get 50,000 points, defeat a dust bunny, die, and get 300 hearts, among other things are what make up the 11 achievements and 1000 Gamerscore. While some of these things might sound difficult, say, if the game was particularly tricky, the good news is, the game's a cake walk.
So much so, in fact, that you can clear the entire achievement list in about 15 minutes, if that? We're not joking, check it out for yourself.
Afterparty
Afterparty tells the story of two college students that find themselves inexplicably in Hell after a party. Desperate to return to the living world, they must escape Hell. How do they do this? Play beer pong, help the citizens of Hell with their random tasks, play some more beer pong, play a perfect stacking game, get really drunk, and then outdrink Satan… easy?
Fortunately, yes! Afterparty's gameplay is generally pretty easy, but the beer pong and perfect stacking minigames can be a real pain. You'll need to perfect these, too, in order to get two of Afterparty's 23 achievements.
The rest of the achievements are incredibly easy to get and you'll unlock most of them naturally. You will have to play through the game a few times to beat Satan, intentionally lose to Satan, and fail to beat Satan, but the experience is fairly short and the branching paths make Afterparty highly replayable anyway.
Mowin & Throwin
Mowin and Throwin is a really odd local co-op game for the Xbox One. This is essentially a competitive lawn moving game where you need to try and… out-mow your opponent?
All you really need to know here is that it has 18 achievements and it'll take you no longer than an hour to all 1000 Gamerscore on offer. This is one of the easiest Xbox One games for achievements without a doubt in 2019, but just make sure you've got a friend to help you out.
Fractured Minds
Fractured Minds may be an incredibly easy game to get achievements from, but it's also an immersive title that touches on sensitive issues like anxiety and other mental health problems. It was also the BAFTA Young Game Designers Winner in 2017, thought it only released this year.
Coming in at about an hour to complete, Fractured Minds is a short but sweet artistic experience. Players will make their way through six levels, overcoming challenges and obstacles that reflect real-life scenarios.
There's only one missable achievement out of Fractured Minds' total of 10. Even then, all you need to do is stand still until someone appears after a few minutes and you'll have the full set. From start to finish and 0 to 1000 Gamerscore in an hour, Fractured Minds is well worth checking it out.
It's also incredibly cheap!
Just Ignore Them
Just Ignore Them is from a developer renowned for its games targeting achievement and trophy hunters alike, Ratalaika. This point-and-click adventure game has some horror themes, but don't worry, it never actually gets properly scary that you won't want to continue,
Even if it did, it wouldn't matter really anyway. Just Ignore Them's 33 achievements can all be obtained in the space of a couple hours, with just two specific 'Ending' achievements causing you to have to play through the game twice.
Still, this is one of the fastest games to rack up 1000 Gamerscore. Just check out this video guide. Achievement Land wraps it up in 45 minutes!
The Walking Dead: The Telltale Definitive Series
While Telltale's The Walking Dead series has well and truly come to a close, there was time for one last release. The Walking Dead: The Telltale Definitive Series compiles all four main seasons, plus 400 Days, Michonne mini-series and bonus features onto one disc.
That means you've got an absolute ton of narrative-driven zombie goodness to make your way through. Even better, the achievements have remained just as simple, requiring you to complete every episode to unlock all achievements.
Once you do, you'll have a full 1000 Gamerscore and will have experienced the entirety of Clem's story for yourself. It's a shame not every game kept its original 1000 Gamerscore, but we won't scoff at another easy 1000 all the same.