Binding of Isaac Dev's New Game, Fingered, Gets a Bizarre Release Trailer
what.
Edmund McMillen is at it again. The creator behind The Binding of Isaac and Super Meat Boy is back with his new gaming venture, a "hyperrealisic police sim" where players will use criminal descriptions to accuse wrongdoers and clean up the streets. Also, it's called Fingered.
A game with such a bizarre name deserves an equally odd trailer, and so we have have this:
In case you were too dazed by the psychedelic finger chorus, here's the game's feature list:
21 levels of confusion
a few billion randomly generated people to finger/murder
barking
loads of secret celebs to murder!
find yourself in the criminal data base!
buttons
sounds
menus
Hmm.. maybe this isn't making tons of sense. Uhh… here's some screenshots. Hopefully that'll clear things up.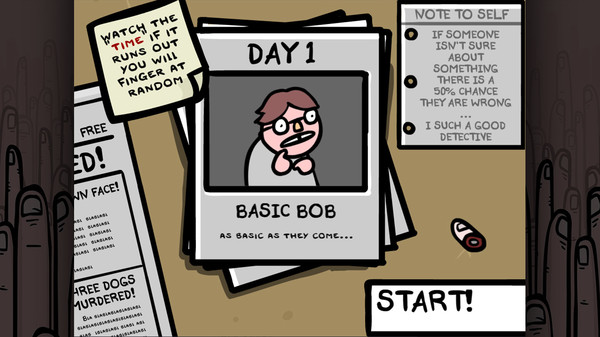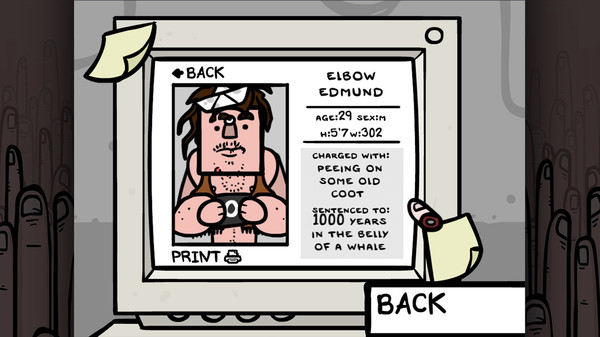 Alright, I think we're getting somewhere here. Let's take a look at the game description.
"GUILTY! THEY ARE ALL GUILTY!

i mean really just look at them, you can see the guilt…
i feel guilty just looking at them…

can you point the finger at your fellow man?
are you ready to finger yourself?
can you do your job?

trim your nails, put on your listening eyes and peer deeply into the skin folds of the usual suspects…

will you become a true hero?
or will the fleas become too much for you?

either way, i think there is a future in this for us."
Aaand we're lost again. Okay, look, Fingered comes out Aug. 18 on Steam for "$1.87 CHEAP." You can check out a few more details at McMillen's blog and pick up the game on Steam next week.