Grand Theft Auto V Savant Creates Avatars of Mad Max: Fury Road Characters
Welcome to Los Santos, dear Furiosa…
It has been one week since Mad Max: Fury Road smashed its way into theaters with critical acclaim and rave reviews – and it seems entertainment news sources can't stop talking about it (and by all means do so, it will be a long while until the potential sequel, the Mad Max video game, or news about Fallout 4 will come out to give us another much-needed dose of post-apocalyptic goodness).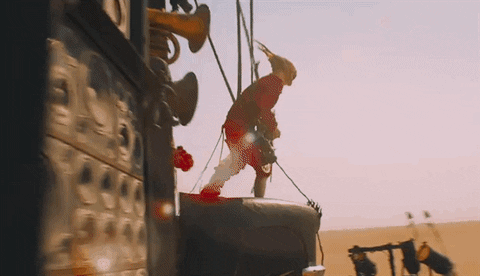 More of this please!!! 
However, some superfans are men and women of action. Inspired by a renewed fervor in the stark visuals, worlds, and iconography of the Mad Max franchise, many talented individuals have flexed their creative muscles to create incredible pieces of inspired art and tributes.
Originally discovered by the folks at The Nerdist – for Grand Theft Auto V player, CharmlessRogue, this meant re-creating the characters from Mad Max: Fury Road using in-game footage and environments, character customization tools, and the Snapmatic feature. The end-results are stunning doppelgangers of Charlize Theron's Imperator Furiosa and Tom Hardy's Mad Rockatansky situated in the in-game desert wasteland backdrops. Even more impressive, CharmlessRogue edited the images to appear as fantastic and gritty movie posters.
These renditions are absolutely spot on, and we applaud the amazing work of CharmlessRogue. It would be really fascinating to see other Mad Max: Fury Road characters such as Immortal Joe, his War Boys, Nux, or The Wives (the Splendid Angharad, Capable, Toast the Knowing, The Dag, and Cheedo the Fragile) recreated in this manner as well. Heck, why stop there when there's a whole band of characters from the previous three movies waiting to scour the wastelands of San Andreas?
The Mad Max franchise is not the only franchise he has tried his hand at within Grand Theft Auto V. CharmlessRogue has also created faithful depictions of Top Gun, Fast & Furious, The Book of Eli, and Machete.
What do you think of these fantastic depictions of Furiosa, Max, and these other iconic pop culture characters? Have you attempted to do the same in Grand Theft Auto V? Feel free to share your work and comment below!