IEM Cologne Talent Announced
IEM Cologne is set to take place December 18th through the 21st at the ESL Studios in Cologne and has a large cast between the IEM Cologne games and the European Expansion Tournament games to be played.
The line up is a fairly familiar one consisting of LCS favorite Eefje "Sjokz" Depoortere as the tourney's host, Joe Miller and Leigh "Deman" Smith for the play-by-play commentary and an Allstar line up Color casting team with Brandon "Saintvicious" DiMarco of the new LCS team Curse Academy, former support of Evil Geniuses and current free agent Mitch "Krepo" Voorspoels, in-house color caster for EU LCS Martin "Deficio" Lynge ( also an ancient support for NiP) and former Counter Logic Gaming and Lemondogs jungler Marcel "Dexter" Feldkamp who makes one of his first appearances since stepping down after the North American Summer Split.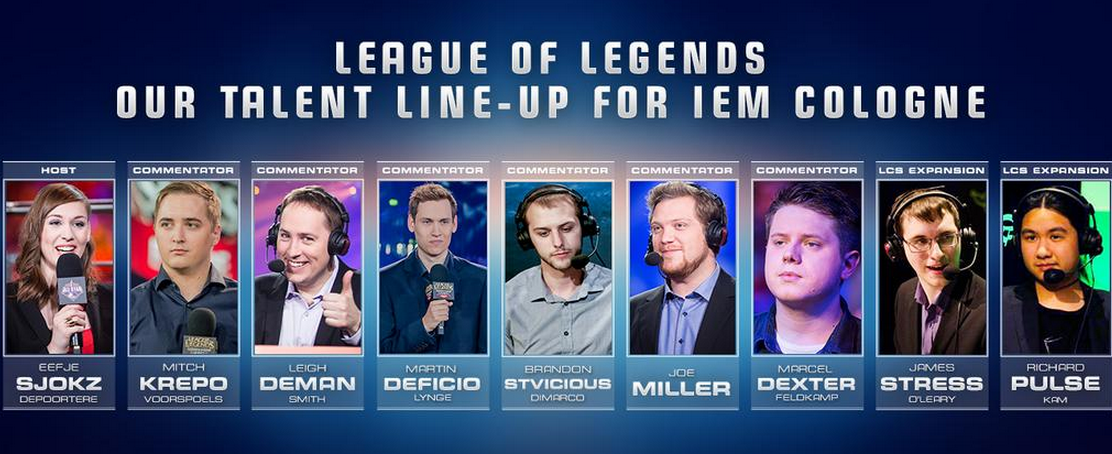 Following IEM Cologne the finals for the European LCS Expansion Tournament will take place and be casted by Richard "Pulse" Kam and James "Stress" O'Leary, newcomers to casting in the European Challenger Scene.