Features
The Internet Was Not Prepared to See Obama Interview in Front of an amiibo Collection
A shelf of amiibo was the unexpected star of President Obama's latest interview. Twitter user, Qqnosh, took notice of a conspicuous Nintendo collection during the president's with YouTube, and things just spiraled from there.
YouTube is doing a live interview with Obama and there's Nintendo figurines in the background. lol pic.twitter.com/DyRUn7AbP9

— Nosh (@qqnosh) January 15, 2016
Once others saw it, the floodgates opened. Some blamed him for the shortage.
@qqnosh @Draconis is this why amiibos are always out of stock

— ▲ (@A_SHtv) January 15, 2016
Wait… so now when I can't find an amiibo I want to buy, I can legit say "Thanks Obama." https://t.co/yMrYJ41m34

— Doug Hill (@DHStom) January 15, 2016
Don't even joke about that, man.
The big disappointment for everybody will be when Obama publicly scans his amiibo and we see its all Mario Party 10 saves, not Smash data.

— Joe Fourhman (@fourhman) January 15, 2016
Obama definitely sends Secret Service agents out to grab all amiibo they can carry.
I BET OBAMA IS ONE OF THE PEOPLE THAT CAN COLLECT ANY AMIIBO WHENEVER HE WANTS pic.twitter.com/YepTAthqAw

— SuccRamenTPM (@Nesswardboi) January 15, 2016
obama, on the phone: what do you mean you are out of ness amiibos? i can't run the country like this

— DAN ICHI UR BOBBIES (@sullibat) January 15, 2016
Oh, wait, those aren't actually his?
You guys, those aren't Obama's Amiibo. The interviewer has a wall of his stuff for a background and he clearly says "welcome to my set".

— Cap'n Sunder (@SunderCR) January 15, 2016
That doesn't matter. He's probably still got all amiibo anyway.
obama could still have a super secret amiibo collection that no one knows about though

— rick (@HandsOnHall) January 15, 2016
Obama photographed with amiibos. Trump condemns him saying "all amiibos should be deported. Disney Infinity toys are real Americans"

— CEO Kaz Hirai (@KazHiraiCEO) January 15, 2016
My god….
Obama <–> amabO -> amiibo
amiibo <-> obiima -> Obama

It's been staring us in the face all along.

— Mason (@HeroOfTime125) January 15, 2016
@qqnosh Obama confirmed for Mario Party 11

— gameonion (@YTgameonion) January 15, 2016
Sonic the Hedgehog Fan-Fiction, you stay out of this.
I doubt the amiibo have anything to do with Obama. Anyway, thought he was more of a chaos emeralds man.

— Richard Stanton (@RichStanton) January 15, 2016
Obama chuckled. "You mean the Chaos Emeralds?"

— Fanfiction_txt (@fanfiction_txt) April 30, 2013
Of course, Nintendo was all in favor of this.
Love your choice of decorations, @sWooZ1e! https://t.co/P2C8hItRAj pic.twitter.com/fOiqGMBgQs

— Nintendo of America (@NintendoAmerica) January 15, 2016
The final conclusion is obvious, folks. Let's make it happen.
@Tansorma @akalilty @NintendoAmerica obama should host the next nintendo direct

— Oscar (@theprinceofiris) January 15, 2016
.@NintendoAmerica schedule Obama vs Trump for NWC 2016

— Elyxim Watson (@WillHeroX) January 15, 2016
@NintendoAmerica @sWooZ1e Obama amiibo?

— Keith Henderson (@GreatKeith) January 15, 2016
@NintendoAmerica @sWooZ1e Obama Amiibo confirmed.

— the gio (@RewindReplayTWI) January 15, 2016
Amiibo's that should exist:
Magikarp
Solid Snake
Either the 1st, 3rd, 5th or 12th Colossi
Doc Louis
Louis C.K.
Satoru Iwata
The Rock
Obama

— Sean Kelly (@Moom_Radio) January 14, 2016
@pietepiet OH.MY.GOD.

obama confirmed for secret true final smash dlc!!!

— Nosh (@qqnosh) January 15, 2016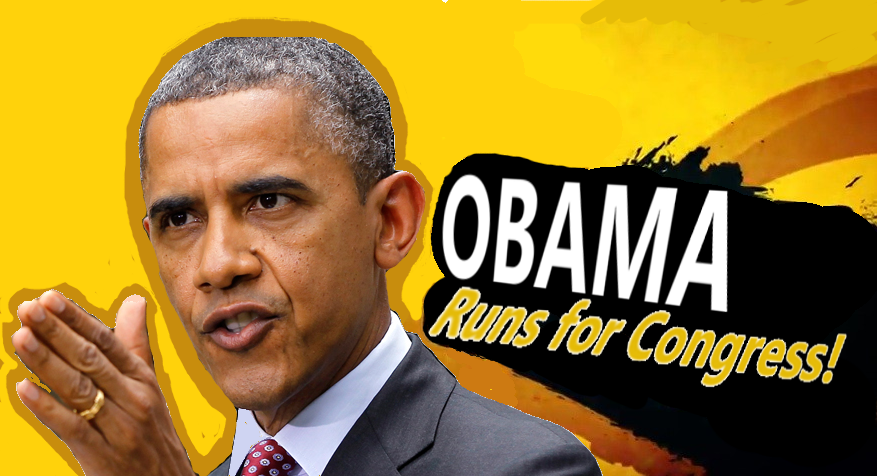 What do you think Obama's favorite amiibo is? Let us know in the comments below.
Check Out More
>